The Abha Seva Sadan Composite Charitable Hospital was established in 1989. Every month it provides free medical care to 2,000 to 2,500 outpatients. Many of them cover long distances on foot in order to reach us. Our wards have facilities for 36 inpatients.
"Composite" means that our medical treatments are multi-disciplinary and composed of various therapies: we presently treat with allopathy, acupuncture and homeopathy. In the future ayurveda and naturopathy will add on to these. According to the needs of the patients and the nature of their d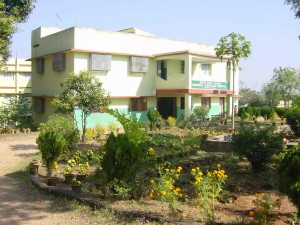 isease, the most suitable treatment is chosen.
As we lack the funds to employ a resident doctor, we require the voluntary services of various specialists for extensive medical care. For example, a gynecologist comes once a month and offers her services for a woman's health camp.
Our mobile medical unit regularly goes to more distant villages, to give treatment and health education to those who cannot cover the long distance to the hospital.
Another major service is our so-called "eye operation camp" every year, during which an opthalmological surgeon conducts free cataract operations for up to 50 elderly villagers. Normally they need to wear thick glasses after the operation, but with the help of donations, we are able to provide them with intraocular lenses. We hope to extend this service towards monthly eye camps.
Despite years of ongoing efforts, our services are still lacking due to insufficient funds and staff. We require monthly Rs. 208,500 (approx. US$ 4,300) in order to provide adequate medical services with trained staff, equipment and other facilities.
We invite not only donations, but also doctors, nurses and other health professionals to offer their temporary services in medical care. It's a truly enriching and fulfilling experience to be able to serve the very needy people in this area.
If you would like to help the hospital or other medical projects at Ananda Nagar please contact medical@anandanagar.org